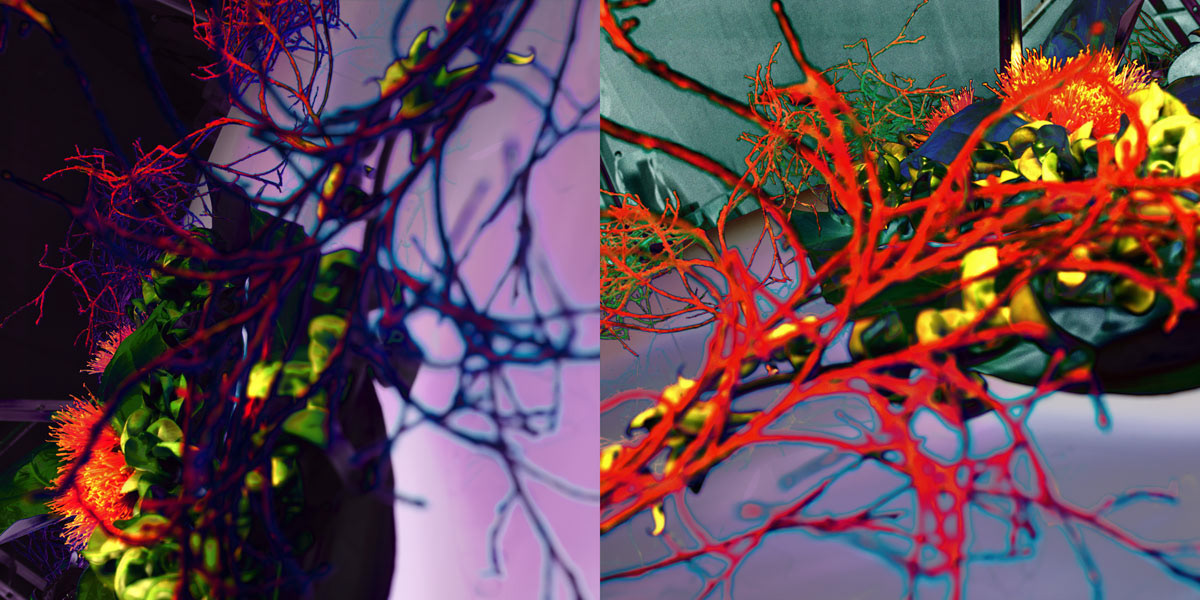 Modern  man no longer knows the meaning of the word "nature".  
Marco Ambrosi reflects on today's attitude: «For us, nature is in vases, display windows, flower-beds, postcards, at the ends of freeways or  just outside the airports of our vacations.»   It's something artificial, in any case forced into the spaces of civilization.    
And yet, if in
Dark Greenhouse: Bios
 Ambrosi intentionally hypes the artificiality of certain floral compositions that - rather than real - seem  products of sophisticated technologies, his models would shine at the most discriminating ikebana show. Different cultures, at times, lead to  completely opposing esthetic and conceptual considerations.    
If anything is artificial in Ambrosi's photos, it's  the digital elaboration that distorts colors and forms to create powerfully suggestive images. Born in 1959, after an apprenticeship in 
architectural photography, Ambrosi gravitates to still-life and, most  recently, to portraits. 
In parallel to his profession as an adman he develops his artistic experimentation, and the 
influences and experience of advertising photography are evident in his 
Dark Greenhouse
.    
His compositions of the same image with variations in color and structure in large format 
diptychs are violent and extremely pleasurable. The spectator is carried away in an abnormal dimension dominated by nature. Perhaps it's exactly the opposite of what Ambrosi wants to denounce; his photographs are stunning.